Whirling !
DANCE DERVISH, DANCE...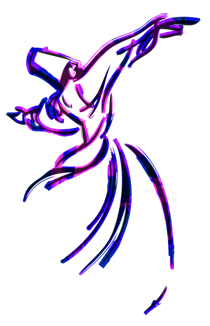 Whirling is the essential meditation of the Mevlevi Sufi path.
In whirling we join the inner movement of the universe, the spontaneous dance of existence. It is a path to unfold countless layers and dimensions of our self, surrender to them, and disappear.
Turning is an image of how the Dervish becomes an empty space where human and divine can meet; a spiritual remembrance of the Presence at the center of existence. A place where to dissolve our own ego.
Whirling is the spiritual journey of love towards truth, where the soul may reach a state of union, and then comes back to this life to share its love and joy. Sema, the whirling dance, is a moment of the Dervish spiritual journey which is going on every instant of his life, of those who walk the path of love, of those who search and remember the Divine in themselves and in existence.
"Your feet move into the dance. The whirling, you see, belongs to you,
And you belong to the whirling !
Just like the wind belongs to the universe." ∼Mevlana